May 2023
DIF Website | DIF Mailing Lists | Meeting Recording Archive
Table of contents
🚀 Decentralized Identity Foundation News
Introducing our new TSC Chair
DIF is delighted to announce the appointment of Andor Kesselman as Technical Steering Committee Chair.
Andor is the co-founder and CTO of Benri, a company that specializes in equipping developers with tools and infrastructure for onboarding onto the decentralized web. As chair, Andor is honored and enthusiastic about facilitating interactions between DIF members and various working groups, as well as promoting wider ecosystem participation in DIF's efforts towards decentralized identity. Within DIF, Andor is active in several groups, including Presentation Exchange, Trust Establishment, and Decentralized Web Nodes. Additionally, he is the co-chair of the Decentralized Web Node (DWN) working group.
Before joining the decentralized identity ecosystem, Andor served as a founding engineer at pathr.ai, focusing on ML pipeline engineering, and co-authored RK-Diagrams. Andor is also a co-lead of the Trust Registry Task Force at Trust Over IP.
Andor is from the US, and currently lives in India with his wife, whom he met during a sabbatical. He's traveled around the world, and loves taking trips into nature. The picture you see is from his wedding, which took place in Kerala, a state in India known for it's beautiful beaches and countless coconut trees!
Andor is eager to receive your suggestions on how to encourage healthy activity within DIF. Please don't hesitate to contact him on Slack and introduce!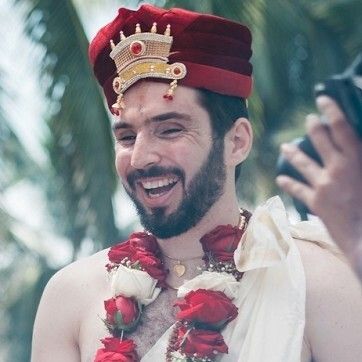 New Senior Communications Director
Hello! I'm Damian Glover, DIF's new senior communications director. My background is in journalism, web product management and customer strategy consulting. I've been participating in the decentralized identity community since 2019 and currently co-chair the IoT Special Interest Group, in addition to my role as communications director. If you're using DIDs in production and would be interested in writing a guest blog highlighting your use case, have any ideas for or comments on the newsletter, or would just like to say hello, I'd love to hear from you! You can reach me on the DIF Slack @damianglover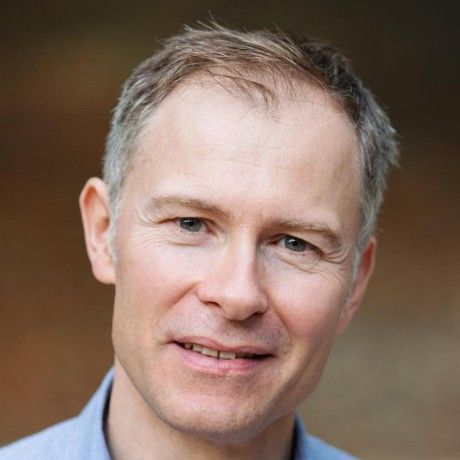 Korea SIG
We're extremely excited to announce the formation of the new DIF Korea Special Interest Group (SIG).
The Korea SIG will provide a forum for research into domestic applications of decentralized identity and will coordinate technical standardization work, with the goal to develop a Korean-style decentralized identity ecosystem and incorporate this into the country's e-government framework.
Participants will include representatives from the Telecommunications Technology Association (TTA), the National Information Society Agency, the Korea Internet & Security Agency and the Bank of Korea.
The Korea SIG will meet every two months, with the first meeting taking place in Busan on 19-20 July. The SIG will be chaired by Park Kyoung-Chul, CEO of K4-Security.inc, which is collaborating with the Ministry of Science and ICT to research decentralized identity. Kyoung-Chul also serves on the Blockchain & Information Security Standardization Committee within the TTA, a standards development organization.
For more information, read Kyoung-Chul's guest blog
🛠️ Working Group Updates
BBS Signatures
DIF members Tobias Looker and Vasilis Kalos of MATTR presented their updated Draft of the BBS specification at the Crypto Forum Research Group (CFRG) during the recent Internet Engineering Task Force (IETF) Meeting in Yokohama Japan. The specification, developed by the Applied Cryptography Working Group, describes a pairing based, multi-message signature supporting selective disclosure and zero-knowledge proofs. You can watch their presentation here
More attendance, reviews and implementations are always welcome.
The DIF Crypto - BBS work item meets weekly at 11am PT/2pm ET /8pm CET Mondays
Crypto Revocation Work Item bi-weekly
The group is looking for more participation at this time, particularly from potential implementers of low-level libraries for the novel revocation schemes the group has been researching and documenting. If you're interested in contributing and helping to drive work on this, please reach out to limari@identity.foundation.
The DIF Crypto Revocation work item meets bi-weekly at 11am PT/2pm ET/8pm CET Thursdays
The WG is working on improvements to the existing Sidetree protocol towards a v1.1 and could use help from people using/implementing Sidetree or who are generally interested. To get involved, join our calls and the slack channel #wg-sidetree - calls are every Tuesday at 10 pacific time.
Sidetree Weekly Work Group meets at 10am PT/ 1pm ET/ 7pm CET Tuesdays
DWN Task Force (Decentralized Web Nodes)
Work on the DWeb Node MVP reference implementation is finishing up this month.
The Task Force warmly invites all DIF members to join us every Wednesday bi-weekly at 9AM PST to listen in on the working group's progress. TBD, a division of Block, has also been working to open-source tooling and onboarding to DWNs, in addition to the core sample implementation.
Also a reminder that the DWN companion guide is now available.
DIF/CCG Secure Data Storage WG - DWN Task Force meets bi-weely at 9am PT/12pm ET/6pm CET Wednesdays
If you are interested in participating in any of the Working Groups highlighted above, or any of DIF's other Working Groups, please click here.
📖 Open Groups at DIF
The DIF Interop Working Group welcomes Bonnie Yau from the Digital Identity Lab of Canada (IDLab) as our new Chair.
The Interop WG kicked off May with a brand new series on User Adoption and Interoperability. This series is an opportunity for problem solvers and technology innovators to exchange stories on their journey thus far. For our first presenter we were pleased to welcome Dan Giurescu, founder of Credivera. Credivera is the world's first secure, open exchange for verifiable credentials and Dan shared a great overview of his company's journey, how they have made a positive impact in the hazardous goods industry, their ecosystem, and challenges and successes in interoperability.
You can see the whole presentation at this link
The DIF Interoperability group meets you bi-weekly at 8am PT/11am ET/5pm CET Wednesdays
[📡 DIDComm User Group] (Open Group)
Several of the DIDComm user-group members participated in a DIDComm v2 connect-a-thon at IIW. We showed several different vendor agents messaging, issuing credentials, and other DIDComm sub-protocols. Click here
for more information.
Reminder: for those who have been away from DIF for a while, the DIDComm "Unsyc" has now been reformed into the DIDComm User Group, which meets Mondays at 12 pm PT. The group is open and non-IPR protected. The group is currently discussing creating a DIDComm user guide in addition to a DIDComm testing tool, a training course, and a browser-based DIDComm-focused playground with the intention of helping the community understand and extend DIDComm v2. Feel free to join the group meeting or contribute to the discussion on Discord.
The DIDComm user group meets weekly at 12pm PT/3pm ET/ 9pm CET Mondays
Tram Vo, CEO of MOBI, the smart mobility consortium, and CTO Andreas Freund recently spoke to the IoT SIG about the alliance's technical work and how they are leveraging DIDs and VCs to enable a range of use cases within the automotive industry. We also heard from Michael Ford of IPC International, the global association of the electronics industry, on how the industry is assessing how DIDs and VCs can dovetail with existing standards for digital twins and provenance of materials in the electronics supply chain. Nicky Hickman shared insights into key IoT market segments and led a discussion on prioritising IoT-related use cases for DIDs and VCs.
The IoT SIG meets bi-weekly at 10am PT/1pm ET/ 7pm CET Wednesdays
Following a time change for the Banking and Finance SIG Call, the SIG now meets bi-weekly at 2pm PT/ 5pm ET/ 11pm CET Thursdays
We invite everyone in the APAC region to join our monthly calls and contribute to the discussion. You will be able to find the minutes of the latest meeting here.
The DIF APAC call takes place Monthly on the 4th Thursday of the month. Please see the DIF calendar for updated timing.
We are in need of someone to chair this process. Let us know if you're interested in building, organizing and hosting monthly meetings.
Occurs on the first Thursday of the month at 9am UTC
📢 Announcements at DIF
IIW XXXVI
DIF members and friends gathered at the Computer History Museum in Mountain View, California for the 36th Internet Identity Workshop. IIW attracts an international audience and has a history of incubating important identity standards including OAuth and OpenID Connect. In the words of event co-founder and DIF Steering Committee member Kaliya Young, "The event continues to be the biggest tent for collaboration and ideation across the various user-centric identity spheres and communities. The open culture of DIF and its commitment to integrations with today's identity technologies thrive in this environment, and many key DIF collaborations have begun or successfully recruited new participants at IIW."
Our new Executive Director, Clare Nelson, provided an update on the Decentralized Identity Foundation (DIF):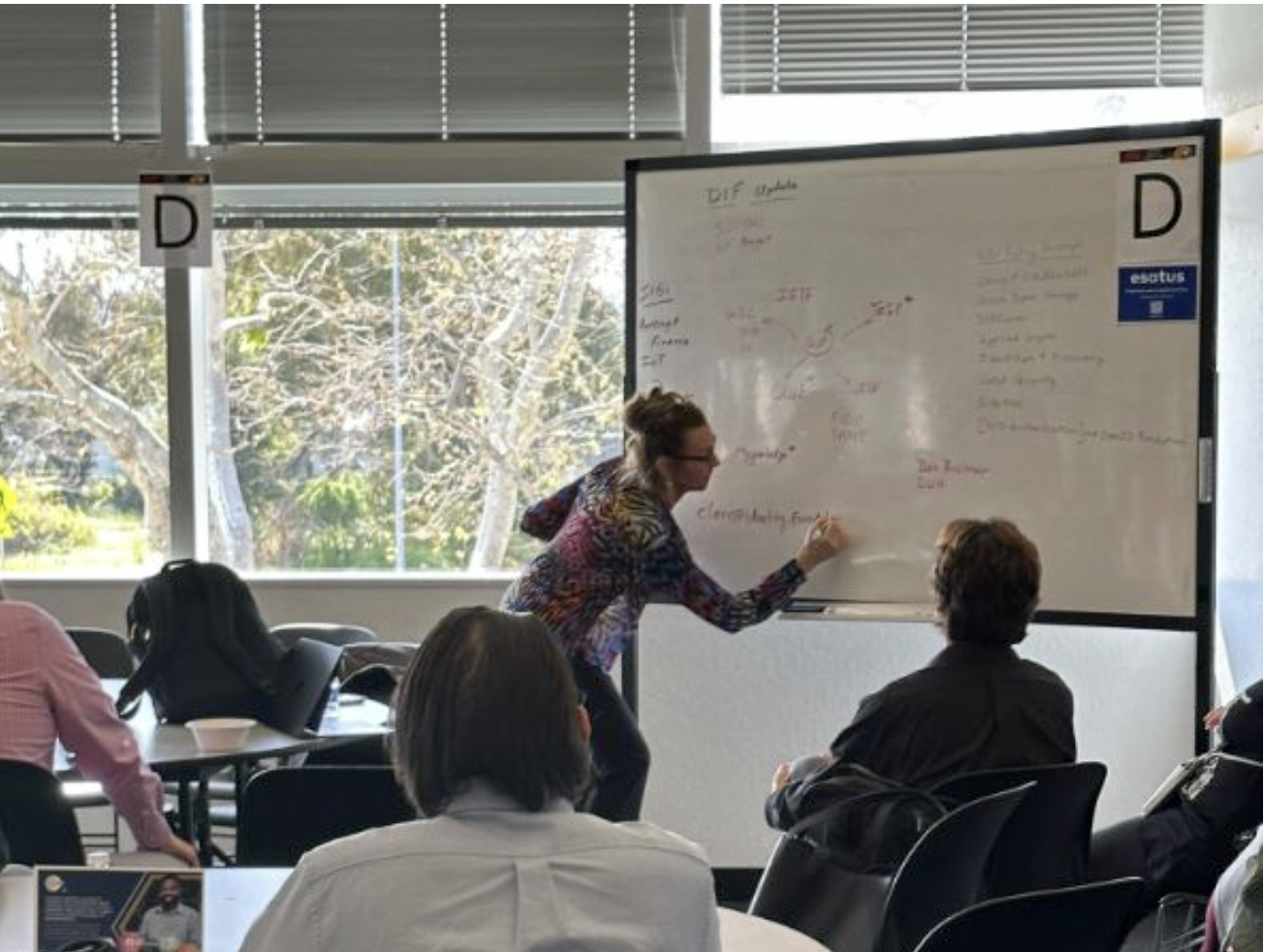 Limari Navarrete, DIF's Senior Director of Community Engagement and Stephen Curran from the British Columbia Government's Digital Trust Team gave a presentation on Self-Sovereign Identity (SSI) 101: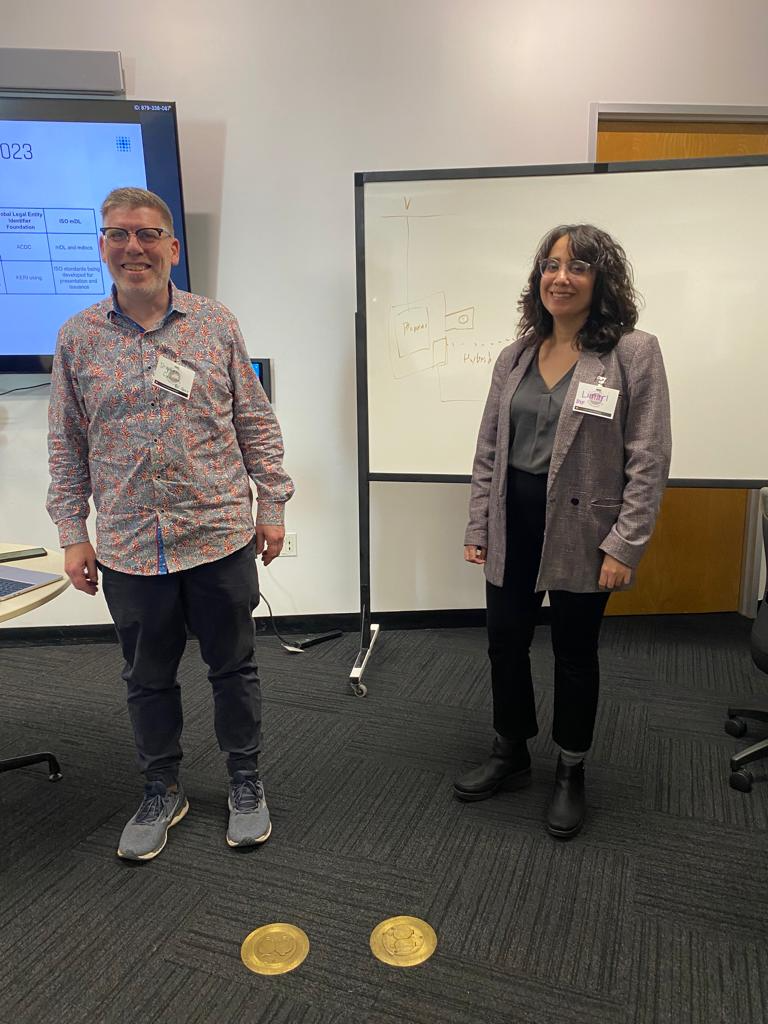 DIF members and friends of DIF led sessions including:
ABC's of Writing DIDs with Universal Registrar (and how it's different from Universal Resolver) (Ankur Banerjee of cheqd and Markus Sabadello of Danube Tech):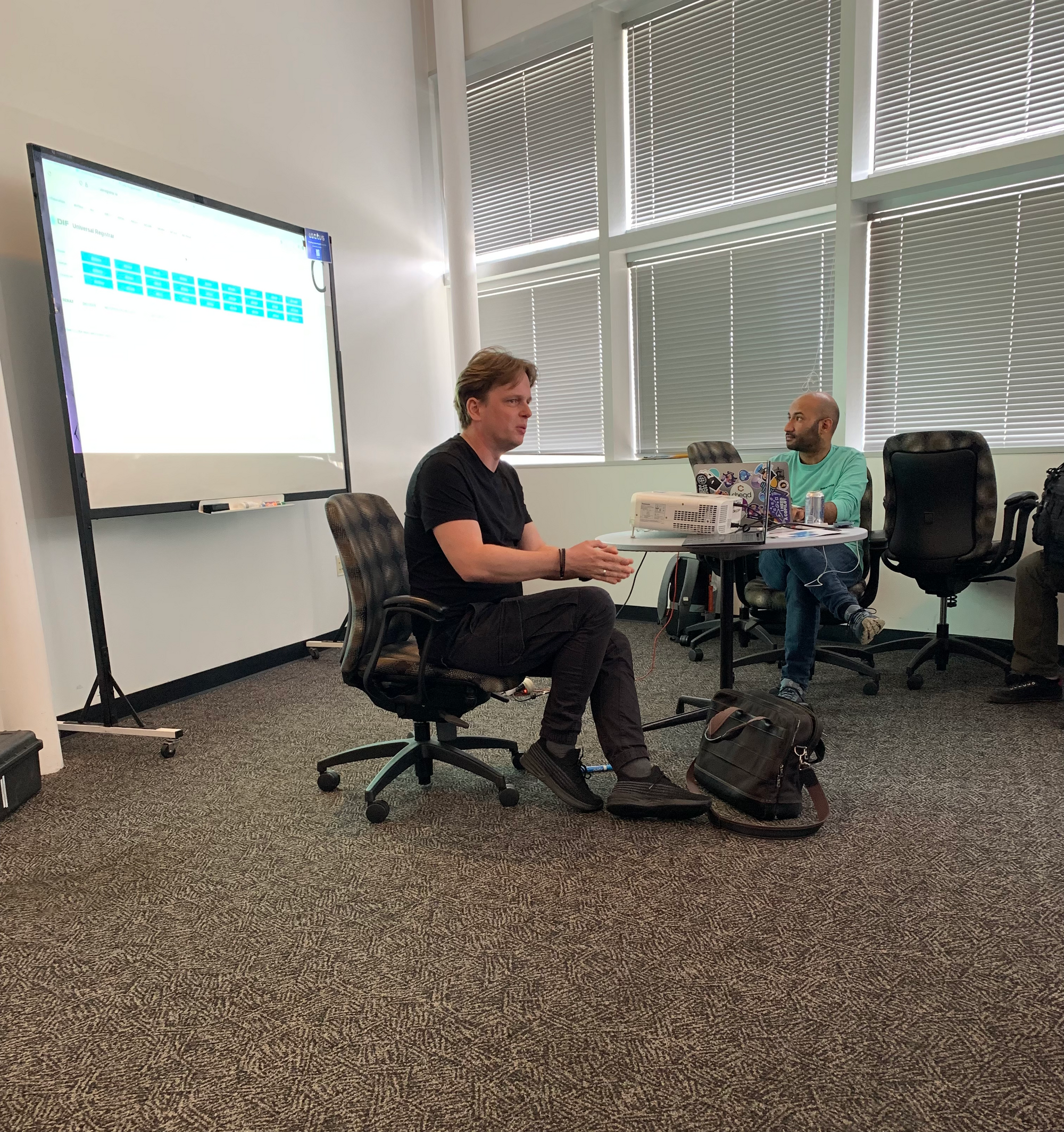 Advanced Topics in DID Resolution (Ankur Banerjee and Markus Sabadello)
Interoperable Trust Registries with DID-Linked Resources (DRLs) (Alex Tweeddale of cheqd and Andor Kesselman of Benri.io)
30 days from Web5: A preview of the stack and Developer Preview release next month (Daniel Buchner and Gabe Cohen of TBD)
Using HUMOR (ha ha ha) and Visual Communication To Gain TRUST (Chance McGee and Zack Jones from Trinsic).
Notes from these and other proceedings will be published on the IIW website shortly. In the meantime here's a few post-event reflections from DIF members:
"I saw three major themes: Trust Registries/Trust Establishment, AI (and how decentralized identity may help us sort things out) and Government (many representatives in attendance and leading sessions)" Mike Ebert
"Some of the topics I found most interesting: SD-JWT - not necessarily related to any work item, but was a great topic and super informative session. Advanced Topics in DID Resolution - might want to reach out to Markus / Ankur for a synopsis, but as you might guess it covered some aspects of DID Resolution other than simply getting a DID Document (e.g. querying the historic state of a DID). Fun with DIDComm Protocols - I led this session where we brainstormed what some fun DIDComm protocols could look like. I hope to discuss this in one of the upcoming DIDComm User Group calls, but some of my favorite ideas were: Transform - a protocol for transforming DIDComm messages (e.g. from one language to another, or from text to audio); Shout - a lightweight social feed based on DIDComm; Chess - we're gonna make Chess over DIDComm happen!" Nick Reynolds
At this IIW we were fortunate to be joined by Chance McGee who brought a unique look at humor, visual representation and storytelling to the SSI space: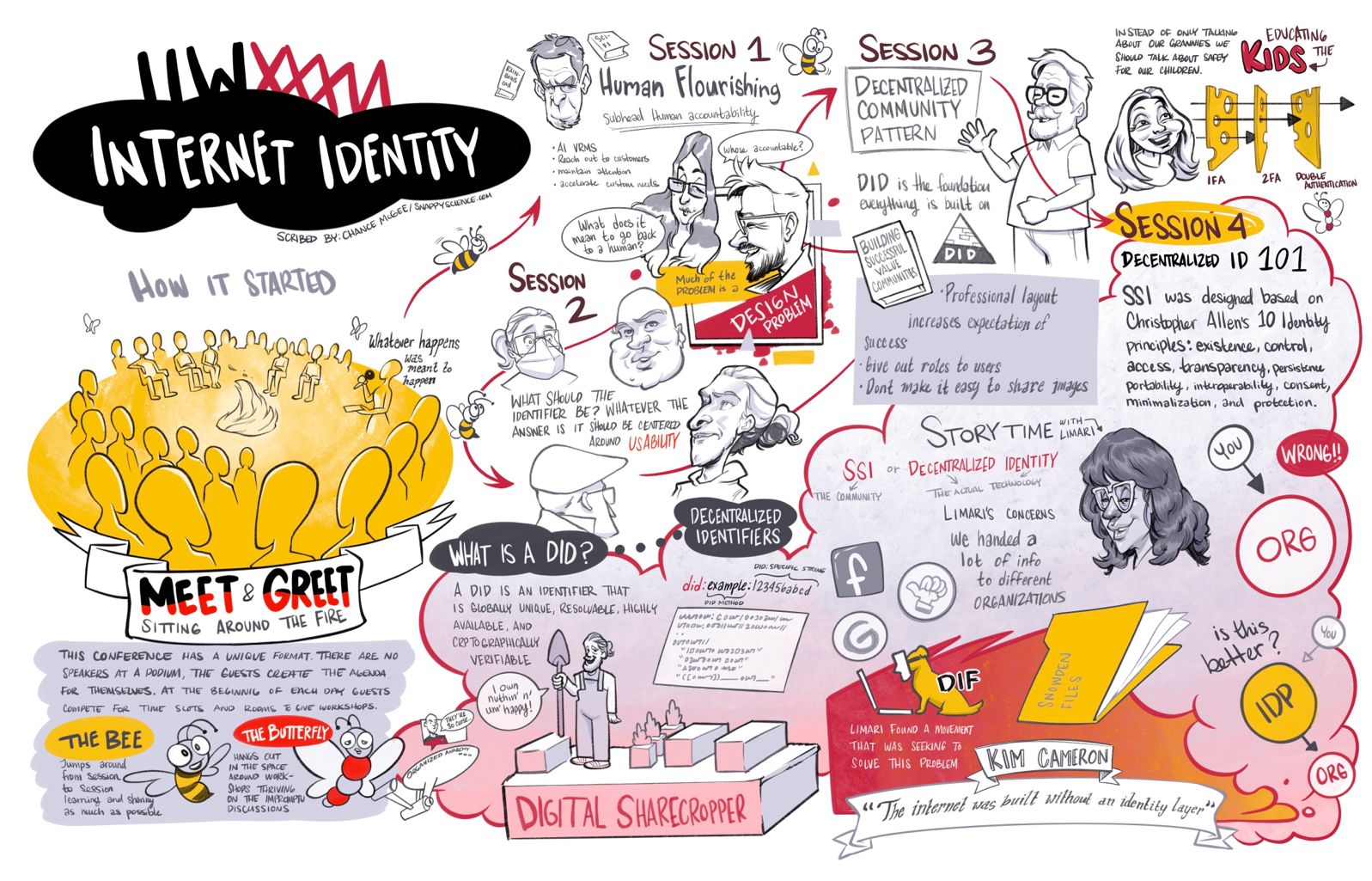 You can see more of his work and connect at snappyscience.com
Department of Homeland Security (DHS) Science and Technology Directorate's (S&T) Silicon Valley Innovation Program (SVIP) Demo Week
SVIP holds its annual Demo Week conference in Washington, DC on 18-19 May. The two-day event features a keynote speaker from DHS Leadership, panels of DHS operational agencies, investors, and international government partners, and technology demonstrations from across SVIP's portfolio of startups, including Computer Vision, Cybersecurity, Data Analytics, HealthTech, Identity, Language Translation, and Sensors. The event will also include expert panel discussions and breakout sessions led by S&T and SVIP leadership. To register, click here
Digital Identity unConference (DICE) Europe 2023
DICE is an 'unconference' inspired by IIW that aims to foster a more connected ecosystem of companies working on digital identity in European countries. The two facilitators and producers of IIW, Kaliya Young and Heidi Nobantu Saul, are collaborating with a local partner, Trust Square, and the Swiss Digital Identity and Data Sovereignty Association (DIDAS) to host the inaugural DICE event in Zurich from 7-9 June.
DICE 2023 brings together innovative startups, large companies, and governments, who are building products and developing services using emerging digital identity technologies. Damian Glover will present an introduction to Self-Sovereign Identity and decentralized identity during the pre-conference session. To find out more or to register, click here
🗓️ ️Community Events
AMA on Presentation Exchange with Brent Zundel
Following the recent ratification of version 2 of Presentation Exchange, Brent Zundel, chair of DIF's Applied Crypto working group, featured in an 'Ask Me Anything' session about Presentation Exchange, hosted by Limari Navarrete, on 27th April. Click here in case you missed it.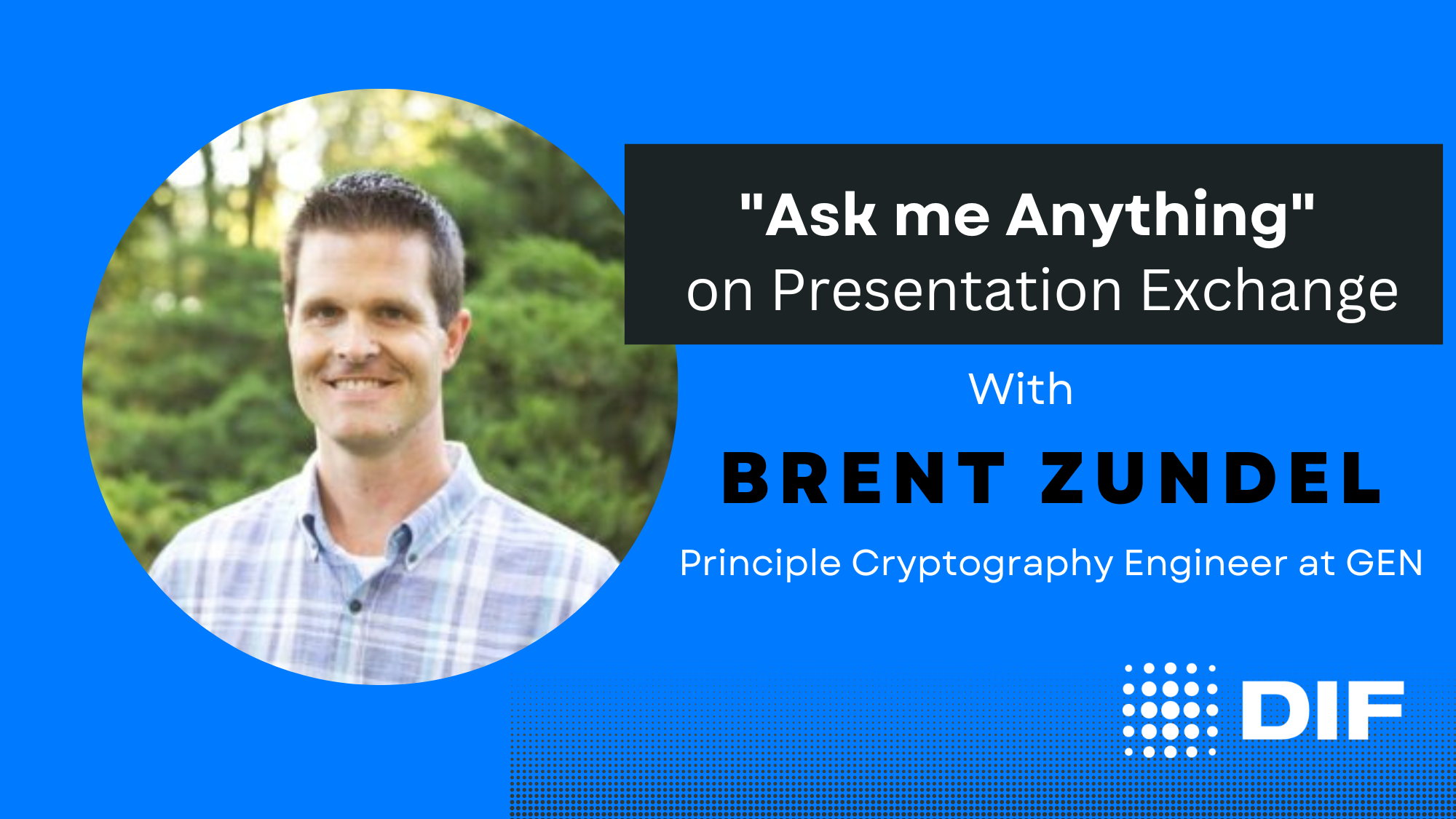 Power of DIDs
Steering Committee member Markus Sabadello published the second installment in his 'Power of DIDs' video series, in which he explains the process of creating DIDs. Watch the video here
Markus was also a guest on the SSI Orbit podcast, talking about Decentralized Identifiers (DIDs): DID Methods, DID Documents and DID Resolution. Listen here
Pharmaledger @ next IoT SIG meeting
Daniel Fritz, Executive Director of the Pharmaledger Association, is joining the upcoming IoT SIG on 24 May to share his insights into how the pharmaceutical industry is collaborating to create a digital trust ecosystem and how this is benefiting members, starting with a shared product enabling members to switch from paper to electronic Product Information leaflets.
This is an open meeting so please feel free to drop-in, spread the word, and invite non-members to attend and participate!
did:hack
Join us online for did:hack, a decentralized identity hackathon!
🎉 What this hackathon is about
did:hack is an open event for people to learn, collaborate, and think creatively about how decentralized identity technology can be leveraged to improve digital interactions in the future.
The event takes place in two sessions on 5 and 8 June and is designed to be inclusive to individuals from all backgrounds no matter their technical skills, professional experience or familiarity with decentralized identity.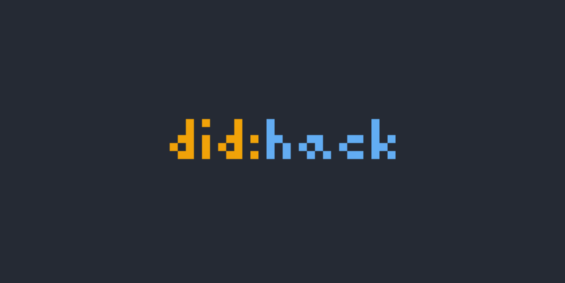 Register here to participate
🗣️ DIF Member Announcements
New Member Orientations
If you are new to DIF join us for our upcoming new member orientations. Please subscribe to DIF's eventbrite for upcoming notifications on orientations and events which can be found here.
🆔 Join DIF!
If you would like to get in touch with us or become a member of the DIF community, please visit our website.
Can't get enough of DIF?
| Follow us on Twitter
| Join us on GitHub
| subscribe on YouTube
| read our DIF blog
| read the archives